An office block slated to host refugees in a small town in Saxony, Germany, was hit by multiple gunshots from outside, local media report. The building was previously flooded and stoned, part of a series of violent anti-refugee attacks across the country.
The gunshots damaged multiple window panes, but no human injuries were reported. Saxony police say the refugee hostel was guarded by a local security firm, but none of the watchmen inside the house were injured.
Local police refused to reveal what caliber or type of firearm was allegedly used, but added that the crime scene is being searched by police dogs to retrieve some footprints.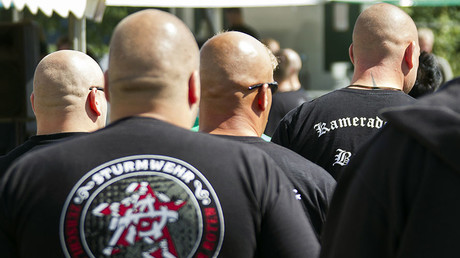 The small town with a population of roughly 12,000 has already witnessed attacks on the same hostel, but none of them previously involved the use of firearms, strictly controlled under German law.
In December last year, the future refugee house was flooded to make it inappropriate for living, and then stoned.
Rumors about the way the building would be used are widespread among local neo-Nazi social media users, who do not believe the authorities plan to host just 80 refugees in the town, according to Mitteldeutsche Zeitung.
Far-right violence has skyrocketed in Germany over recent months, following the flow of migrants seeking asylum and refuge. Numerous refugee centers all across the country had been objects of extremist assaults, often involving arson attacks and stone- throwing. Attacks with lethal weapons have been rare so far.
Saxony has recently featured in headlines over anti-immigrant violence. Earlier in February, a planned refugee hostel in the town of Bautzen was badly damaged after a huge fire broke out inside the building.
https://www.rt.com/news/333926-refugee-shelter-germany-attacked/