Reposted in full from http://national-action.info/2016/05/31/may-report-2016/
As the Fascist spring goes into summer, momentum has continued for the fifth consecutive month with activities being a weekly occurrence. This month there was an international trip to Germany, the release of our new Paedo-Hunt series, several campaigns in London, leafleting in Bath, MMA training and camping in the North West, and much much more.
There is also much to be released over the next few weeks including the report of our main event on the 28th to follow where our activists were met with police brutality. All NA activists who were arrested in March have been released with no further action – so there will be another exciting report and video in that. National Action will also be hosting a competition 'Waifu-NA' where we will interview all our female supporters – the winner will be crowned 'Miss Hitler 2016'.
As of late we have been storming the media with dozens of stories, more people now know about National Action than ever before. Serious raids have been carried out against leading members of the group in the dead of night, seizing everything we haven't nailed down – despite no clear charges being brought against the accused, only a 'pending investigation'. Isn't it so great living in a 'free democracy'? A year ago this might have caused problems, but now the cat is out of the bag and absolutely nothing is going to stop up – activity and releases will continue as normal.
Germany
NA began the month by sending a contingent to participate in the May Day March in Plauen (near Erfurt) – due to the heat we will be postponing the release of the Action Report until things cool off.
London
This has been a really impressive month from our active growing London Branch. The group began the month by ruining the may 9th celebrations also known as VE-Day with a mural and poster campaign.
This has also been followed up with an additional mural!
On Saturday the 14th activists joined a unity event hosted by the South East Alliance which saw a banner drop over London Bridge.
Saturday the 22nd saw a leafleting session
East Anglia
Since we first announced the creation of our new regional group in East Anglia they have not rested on their laurels. We currently have representatives in Norfolk and Suffolk; activities are happening regularly in Ipswich and Norwich, including stickering and postering. Our people have also been involved in the ongoing Brexit campaign. We are hoping to start having regular monthly meet-ups but urgently require people to step forward and fill the void in the region's other counties. If you live in the region and want to DO something for our race, then contact NA East Anglia on their blog: naeastanglia.wordpress.com
South West
Our local branch had an enormously successful leafleting session in the city of Bath. Alex Davies putting into effect some of the points discussed at the conference.
The growing south west region canvassed for hours and by the end of the day we had obtained several contact details of people who were interested in our organisation which was a massive improvement on the last session in Bath.
Feeling the energy we moved on to the cathedral where a public speech was delivered on cuts, austerity, and the migrant crisis. Unfortunately we had walked into a private event and so after we finished we were asked to leave. On our way out we were harassed by a woman with her phone out who saw an oppurtunity to socially signal.
The mother asking what the group advocated pointed to her lily white daughter and insisted she was mixed race. This was of course a lie – mixed race is a first generation phenomenon because we are different races and genes are dominant or recessive. If there is no subsequent mixing the kid is going to be either white or black, even if they are carriers for the gene – though the policy of how to deal with it is a different question and not important at the current time. The story became a five second wonder on social media with outlets having the audacity to mock us for not knowing what 'white is'. In doing this they proved their collective rock bottom stupidity.
There is an increasing trend in liberal journalism to stage and over emphasise stories about proud women of colour standing up to Nazis, such as the paid activist at the NRM demonstration in Sweden and the Muslim who took a selfie in front of PEGIDA demonstrators – both with a camera crew to hand. In future activists will be trained to respond with force to any proud WOC's as if they were communist agitators.
In summation the viral aspect of the story is as an 'expose' one that implies that the Neo-Nazi, Hitler worshipping National Action, is somehow in 'denial' about being considered racist. This damage has been completely undone by events in the past week.
In a further twist of irony, within days of this story breaking many hundreds of people were evacuated from the city when a German bomb was found, clearly uncle Adolf was looking out for us from where he sits in heaven.
North East
For a while Yorkshire NA has been very small relying on a few uber dedicated Nationalists to do local activism or representing us on national demonstrations, however on the 23rd of April this changed.
At around midday 10 members, 5 of which new met in Leeds for a social gathering, these new members had little to no past political inclusion apart from shitposting on the Internet. Not only do we see this as a win for NA but also a win for Nationalism as a whole, which fails to recruit from the general public. Instead we had 5 new members who without NA would have never got involved with Nationalism IRL. When asked why they decided to get involved they told us that they'd seen our videos on YouTube, seen our stickers on the streets or heard people talking about us in university. At around 6:00 we went to the town hall steps to pose for a picture in which the new members immediately through out right hand salutes without being prompted. After this we returned to the pub for a few more drinks, around 11:00 we all decided to call it a night. What was heartwarming about the end of the night was the feedback from the new members, things like – "I was surprised how decent and normal you guys are, I was nervous about coming but I've really enjoyed myself" We may be portrayed in the media as unhinged genocidal lunatics but when people meet us for the first time they'll happily spend over 10 hours in our company, what's more is they enjoyed it and couldn't stop asking about the next event. It's safe to say Yorkshire is in for an absolute Shoah this year, that's a promise, you've had it easy for too long.
News
NATIONAL ACTION INFLICTS NUCLEAR LAMBASTING ON THE STUPID HOLOCAUST LIE WITH SHOCKING BUCHENWALD PHOTO. GRAND HEIST OF THE SIX MILLION TEARS!
The first order of business as there is no way we cannot talk about this. For what was essentially nothing more than a holiday snap, a twitter post, and a single article in German media – has resulted in the greatest media exposure the group has ever had with debuts in the Daily Mail and the Guardian – nothing we have done has ever come even close. On the 27th of May everyone in Britain who read a newspaper was regaled with the propaganda, name, and image of our organisation.
The director of Buchendald Prof. Dr. Volkhard Knigge described it like it was the Brink's-MATT of photobombs;
"No one saw the culprits, who were masked, take the picture, despite the fact that the room is well observed by security. They must have watched it and studied exactly when they could do it, like a bank robbery."
To this the Telegraph added
"While German neo-Nazis sometimes defy the laws against the Hitler salute at their own events, it is extremely rare for anyone to risk performing it in one of the well-guarded former concentration camps."
What is more hilarious than the fact that his name is Dr Knigge (prononced 'Niggy') is an apparent auto-correct typo made by the Sun. Under journalistic guidelines you cannot alter a quotation, so instead of referring to us as "neo-nazis" National Action are instead referred to as "bro-nazis" in a dozen British Newspapers.
The papers even quote Hope Not Hate "The group was named as the "most organisationally sophisticated neo-Nazi group" in the UK, in Hope Not Hate's 2016 report." It must hurt that no matter how many column inches they give to 'undermining' our image, the only time they are ever quoted is to effectively praise us.
Despite the feigned outrage of the gutter press – it will have the opposite effect. To begin with, the attention this act receives inflates the reality – as newspapers are simply sharing the same story they have exaggerated the extent of the investigation to the point anyone would think there was a full international effort by Interpol. Anyone familiar with the negligence and cover up of the new year's eve sex attacks will wonder why such resources are dedicated to this minor act when the continued rape and destruction of an entire nation is being treated indifferently by the authorities of the illegal occupation government.
Also the German law itself is alien to what little conception there is of free speech in the UK which does not outlaw the fascist salute. It raised awareness of political persecution of Nationalists in Europe and raises questions of a double standard, given that Communists and Muslim groups are freely allowed to emulate and admire their own atrocities.
In a bid to reveal the 'shocking nature of the group' – much of our material has also been shared or republished which is also fantastic news.
The Independent for example went to the extent of embedding a National Action Speech on it's website.
At a protest in Rochester last month, a National Action member used a megaphone to claim that "illegal aliens" were being brought to the UK by "Jewish supremacists" and that the refugee crisis was part of an international Marxist conspiracy.

"These people come here from North Africa, they come here from the Middle East in this Marxist revolution," he said.

"Its entire purpose is our annihilation and the creation of a coffee-coloured people who will take over."
Although the intent is to shock and it is partially misquoted, it is not too far off the kind of thing regularly found green arrowed in the comment sections of websites like the Daily Mail which is what our aim is – to insert ideological purity into the right. When people think of sensible right wing argument it needs to be expressed as National Socialism. The above example only touches the surface of our material they have published, and broadsheets are likely to be accompanied by images.
Also investigations into our social media in have unearthed some amusing tidbits. The double meaning of the extract below may have been lost on the editors (they possibly entered into it consciously) but I think a lot of people may have found this funny.
The most hilarious part of all of this is that all of the fake outrage is contradicted by the fact that the papers chose to circulating the offending image to millions of people, when we alone would have only reached a few thousand like-minded people who follow us. It is almost as if under the facade of repulsion there is in reality a little bit of attraction and fascination.
Then a few days later when we thought this couldn't get any better, Russia Today turned it into propaganda in support of far-right populist parties in mainland Europe in it's main segment for 28/05/2016. This was a triple kick in the balls for leftists – not only had we gotten away with causing them such outrage, but in light of the event the argument has been made that it is a misnomer to ascribe terms like 'fascist' and 'nazi' to far-right political parties when an organisation such as NA exists and of course to be used to make that point is an enormous compliment and delivers a lot of credibility. Indeed the point at the end is a salient one.
We cannot confirm whether the men in the photo were members of our group, but what we can confirm is that they will never be caught.
So what actually happened at Buchenwald?
The history of Buchenwald is actually fascinating, the Grand De Tour of the OSS Psychological Warfare division (precursor to the CIA), they raided a local university for human artifacts; shrunken heads, skin samples, and put them on display as actual evidence of camp atrocities – this is where the long discredited 'soap and lampshades' meme actually comes from. For anyone whose knowledge of the Shoah extends to "Hitler gassed six million Jews" the fact that some people see fit might provoke them to do a little research on the history of the camp – and even a mainstream view could have great consequences in terms of their perception.
The following are extracts from the IHR (institute for historical review) on the history of 'Buchenwald'.
The Buchenwald concentration camp was located on a wooded hill outside of Weimar, in what is now East Germany. It was opened in July 1937. Until the war years, almost all the inmates were either professional criminals or political prisoners (most of them ardent Communists). Some 2,300 Buchenwald inmates were pardoned in 1939 in honor of Hitler's 50th birthday.
At the outbreak of war in September 1939 the camp population was 5,300. This grew slowly to 12,000 in early 1943, and then increased rapidly as many foreign workers, especially Poles, Ukrainians and Russians, were brought for employment in war production. (note l)
During the war years Buchenwald was expanded into a vast complex of more than a hundred satellite factories, mines and workshops spread across a large portion of Germany. The most important of these was probably the Dora underground plant, which produced V-2 missiles. In October 1944 it became the independent Nordhausen (Mittelbau) camp. (2)
Many thousands of Jews arrived at Buchenwald from Hungary and various eastern camps in 1944 and 1945. Most had been evacuated by railroad from Auschwitz and other camps threatened by the advancing Red Army. (3)
The number of inmates increased enormously during the final months of the war: 34,000 in November 1943, 44,000 in April 1944, and 80,000 in August 1944. A monthly peak was reachedat the end of February 1945, when 86,000 inmates were crammed into the severely overcrowded camp. Almost 30,000 inmates were evacuated from Buchenwald during the week before the U.S. Army takeover on 11 April 1945. Altogether a total of 239,000 persons were interned in the camp between 1937 and April 1945. (4)
The great majority of those who died at Buchenwald perished during the chaotic final months of the war. They succumbed to disease, often aggravated by malnutrition, in spite of woefully inadequate efforts to keep them alive. They were victims, not of an "extermination" program, but rather of the terrible overcrowding and severe lack of food and medical suppliesdue to a general collapse of order in Germany during the tumultuous final phase of the war.
Along with these indirect victims of the war were many healthy inmates. B.M. McKelway inspected Buchenwald shortly after the U.S. takeover as one of a group of American newspaper editors and publishers. He reported that "many of the hundreds of inmates we saw appeared to be healthy while others suffering from dysentery, typhus, tuberculosis and other diseases were living skeletons." (17)
it is important to realize that the great majority of those who died at Buchenwald were unfortunate victims of a catastrophic war, not German policy. Most of the rest were murdered by order of the Communist underground camp organization. Several hundred were also killed in Allied bombing attacks.
In one air raid against a large munitions factory near the main camp, British bombers killed 750 persons, including 400 inmates. (37)
Following the American takeover of Buchenwald in April 1945, about 80 remaining German guards and camp functionaries were summarily murdered. Inmates brutally beat the Germans to death, sometimes with the aid and encouragement of American soldiers. (38) Between 20 and 30 GIs took turns gleefully beating six young Germans to death. (39) Inmates also commandeered American jeeps and drove to nearby Weimar, where they looted and randomly killed German civilians. (40)
After the war the Soviet secret police operated Buchenwald as a concentration camp for "potential class enemies" and other "possibly dangerous" German civilians. In September 1949, more than four years after the end of the war, there were still 14,300 inmates in the "special camp." (While Buchenwald was under German control, the number of inmates did not reach 14,000 until May 1943.) Conditions were horrible. Even the Soviet official in charge of the concentration camps in Germany, General Merkulov, acknowledged the severe lack of order and cleanliness, particularly at Buchenwald. At least 13,000 and as many as 21,000 persons died in Soviet-run Buchenwald, but no one has ever been punished for the deaths and mistreatment in this notorious postwar camp. (4l)
In an act of stunning hypocrisy, the Communist rulers of the postwar "German Democratic Republic" have turned the Buchenwald camp area into a kind of secular shrine. Every year, hundreds of thousands visit the sites, complete with museums, bell tower, monumental sculpture and memorials dedicated, ironically enough, to the "victims of fascism." (43) There is nothing to remind visitors of the thousands of forgotten Germans who perished miserably during the years after the war when the camp was run by the Soviets.
The story of Buchenwald, like the story of virtually every German wartime concentration camp, is a microcosm of the entire Holocaust tale. The widely-accepted portrayal of Buchenwald, like those of the other German camps, contrasts sharply with the little-known reality.
National Action name dropped in Finnish Media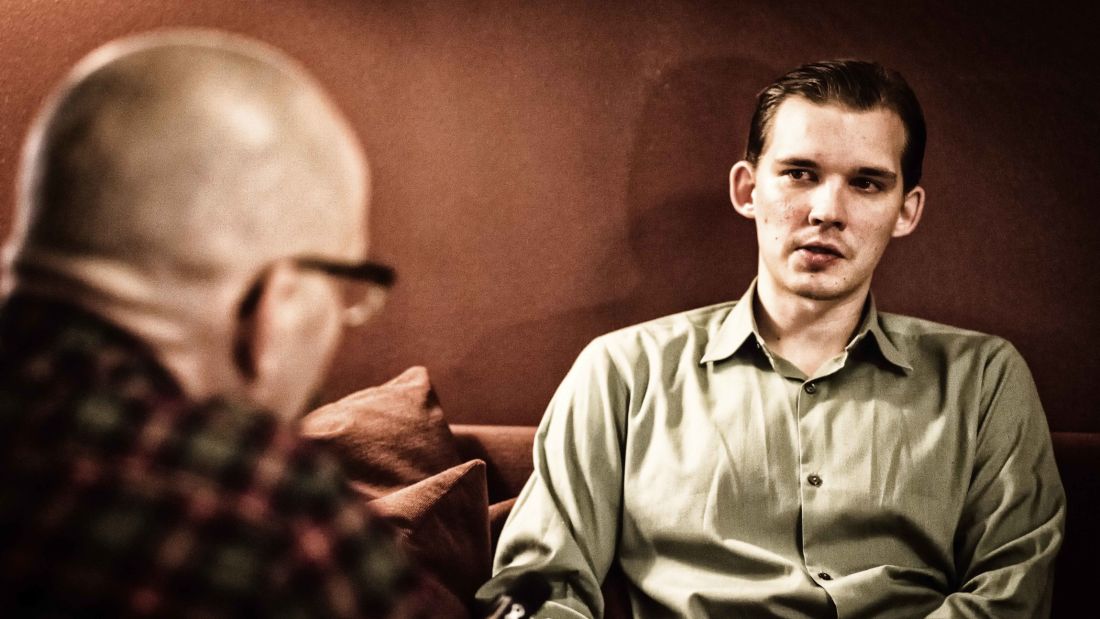 The former Leader of the Finnish wing of the Nordic Resistance movement and race traitor Esa Holappa has been collaborating with Finland's National Broadcasting Agency and as part of a flashy five part expose the group international contacts have been discussed including the trip National Action made in 2015. More of the usual "SVL has very extensive and powerful foreign connections, tons of murderers and professional criminals, worship violence, many members have trained for years and are extremely dangerous, the muh evil training camps." This matter was discussed with a representative of the FNRM "most of his revelations are old information and already known publicly." Others in the organisation are very pleased by the level of media coverage which has helped raise the profile of the group.
Trend of Antifa Copycats
There has been an amusing trend by various antifascists who have begun to utilise the aesthetic of National Action, both in presentation and subculture such as adopting neo-retro, football casual, and post-ironic meme culture.
There is not much to say about this other than it is hilarious. What I don't think these people really understand is that you can't really impose a look on an already established culture which by all accounts is in a time warp. In an ironic twist they are in much the same situation as British Nationalism a decade or two ago – while the opposition were capitalising on the latest trends of Alternative music, Nu-Metal, and Rap, the far right appeared as throwbacks celebrating a dead culture. Small electoral success and social isolation made them resilient to change and it required the complete defeat of British Nationalism and imageboard culture to make something like National Action possible.
Tab article on Leaflets found at Aberystwyth
The Tab a student based online paper released an article this month about the presence of National Action material found on the campus of the University of Aberystwyth. I would like to draw attention to this amusing extract.
Typically we bulk order but for the sake of argument let's say we go with the least cost effective option. so if you do the maths that is 1.1 pence each. "Smashing the fash, one penny at a time" – kids, this is why you go into a STEM field instead of queer asian studies, otherwise you will be a retard forever.