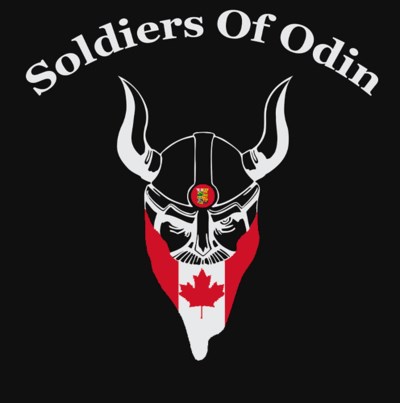 S.O.O. Quebec: Purging The Cucks, Increasing Patrols
In the early evening darkness, four figures huddled in the parking lot of a Quebec City arena, all wearing black sweatshirts emblazoned with a drawing of Odin, a Norse god of war.
One was a professional hunter, another a wood-factory worker. They stomped their boots in the cold, shared a cigarette or two, then set off to patrol the historic streets of the city, armed only with a flashlight and the belief they were protecting Quebecers from a vague but dangerous threat.
Leading the group that night was a 47-year-old father of four, Dave Tregget, who paints cars by day, but on evenings and weekends was in charge of the Quebec chapter of Soldiers of Odin.
"We are Canadians helping Canadians," said Tregget as he steered the group through Saint-Roch, a neighbourhood where urban renewal meets poverty in Quebec City.
"I want to protect our Canadian charter of rights and liberties. We've got to fight to keep these rights."
Tregget felt the group's success in Quebec depended on softening its anti-immigration image and putting some distance between the founding Finnish members, who have been accused of having ties with neo-Nazis.
"We're Canadian, and Canada was based on immigration so we cannot be against it," Tregget said, marching the group up Langelier Boulevard in the Quebec capital on a Tuesday night in early December.
It was a position that proved untenable. Last Friday, he was replaced by his second-in-command, Katy Latulippe. There are conflicting accounts of what happened. Latulippe says Tregget was suspended; Tregget says he quit, "finished with the racist image of Finland," as he later told CBC News in a Facebook message.
Regardless of the details, what is clear is that with Tregget out, and Latulippe in, the group will undergo a reorientation. The new acting president has vowed to return the Quebec branch of the Soldiers of Odin to its Finnish roots and ramp up patrols of the more Muslim areas of Quebec City.
"We won't allow them to bring mayhem to our streets and the gang rapes that we're seeing in certain countries currently," she said. "That's all we want to do."
Latulippe is still a relative newcomer to Quebec City, having moved there recently from Magog, Quebec.
"Dave (Tregget) avoided that, on patrols, we go into areas where there are a lot of Muslims or Islamization," she said.
The Soldiers of Odin have around 3,500 members in Canada, with 400 of them in Quebec.
They have, since February, organized patrols through various neighbourhoods, sometimes as many as three or four times a week.
They also attracted attention by providing security at a demonstration outside the National Assembly in October, which was attended by several other far-right groups in the province.
And the group has teamed up on a number of occasions with Atalante Québec, an openly neo-fascist organization that speaks of protecting the "neo-French."
The two groups joined forces for a food drive last month and jointly patrolled the Laval University campus after a spate of sexual assaults there in October.
"What we've aimed for since we started Soldiers of Odin is to unite all the groups of what we'll call the 'far right' because our common denominator is (being against) the system", they said.
http://www.cbc.ca/news/canada/montreal/quebec-far-right-soldiers-of-odin-1.3896175
Soldiers of Odin, dubbed 'extreme anti-refugee group,' patrol Edmonton streets
The Soldiers of Odin, a European organization that has been dubbed "an extreme anti-refugee group" by the Anti-Defamation League, has begun setting up shop in Edmonton.
About 10 men, all  wearing matching insignia on their backs, a Norse horned helmet with a Canadian flag for a beard, have been seen patrolling the city's streets.
According to social media posts by the group, marches have also taken place in British Columbia and Ontario.
While some see them as protectors, anti-whites & foreigners consider them dangerous vigilantes.
The group's bylaws state their goal is to take back the streets, and patrols are their way of doing that.
Inspector Dan Jones said the Edmonton Police Service is aware of the Soldiers of Odin, but hasn't received any complaints.
If they are the Soldiers of Odin like they are in Europe, we are going to be very concerned," Jones said. "But at this stage, we don't have any reason to believe they have engaged in criminal activity."
Soldiers of Odin opens chapters in Yukon, Hamilton
A group that has been deemed an extreme anti-refugee vigilante organization has set up shop in Yukon, according to the RCMP.
S.O.O. Yukon organizes through a closed Facebook group, & its members are also active in public, carrying out street patrols.