The following is reposted from http://www.occidentaldissent.com/2017/05/09/punching-right-inside-the-battle-of-new-orleans/
Text in bold added by admin of Yes Pasaran.
Here's an insider's account of what went down in New Orleans this weekend:
Planning
As everyone knows by now, the Battle of New Orleans was provoked by the truckload of antifa who showed up to attack Black Rebel, Arlene Barnum and the Confederate heritage activists at the Jefferson Davis monument last Monday. They also vandalized the P.G.T. Beauregard monument on May Day and wrote an article about it on ItsGoingDown.org to celebrate their triumph.
The antifa attack pissed all sorts of people off who began planning on short notice to go to New Orleans to oppose antifa and the Take 'Em Down NOLA event on Sunday. Many of us have known Arlene Barnum and Black Rebel for years. The League of the South was at the Monumental Dixie rally in Birmingham in 2015 when Anthony Hervey was killed on his way back to Oxford, MS.
Anyway, a steady stream of people started vowing that they were going to New Orleans and as this event began to gestate I created a Facebook event page to coordinate our activities. It made no sense for everyone to go in alone with no way to communicate with each other. Originally, the plan was to keep it quiet, organize privately, slip in unannounced and confront antifa.
As the League event began to materialize, we noticed that other groups announced they were coming to New Orleans. Based Stickman and American Warrior Revolution announced publicly on Facebook that they were coming to the Battle of New Orleans. The phrase "Battle of New Orleans" was coined by Black Rebel and the Confederate heritage crowd. By late Thursday evening, this had all spilled into public view and so I wrote the Battle of New Orleans article to encourage as many people as possible to come.
Confederate heritage activists, Alt-Right, League of the South, White Nationalists, the Alt-Lite and reportedly Patriot groups and motorcycle clubs were set to converge in New Orleans to oppose antifa. This was what we knew as we started traveling to New Orleans on Friday and Saturday.
Arrival
We arrived in New Orleans on Saturday afternoon.
After we got there, we set up our headquarters in Slidell, began gathering people and a small group of us who arrived early headed into the city to take a look at the Confederate monuments and to get a feel for the terrain where the Take 'Em Down NOLA event would be held on Sunday.
The first stop was Jefferson Davis monument. A small group of Confederate heritage activists were stationed on the sidewalk across the street from the Jefferson Davis monument. At this point, we learned that Black Rebel had returned home to Oklahoma. We also knew that Based Stickman wasn't coming to New Orleans, but that his supporters would be at the Take 'Em Down NOLA event in the morning.
As we stood there at the Jefferson Davis monument, a familiar scene began to play out. There were lots of hipsters in the area which appeared to be undergoing gentrification. They would speed by on their bicycles, scream "you're a bunch of racists" at the Confederate heritage crowd and take off. It seemed like carload after carload of them did this. It was happening every three minutes. It reminded me of the scene that I had witnessed at the Marching Through Oxford event in 2014.
After like the 12th time this happened, one of our people threw a water bottle. This provoked some consternation with the Confederate heritage crowd. Some of them thought this was making them look bad. We were sensing a vibe of weakness. These people were getting abused and attacked because they are so meek. As it began to get dark, we left to go check out Lee Circle, but as we were leaving one of the Confederate heritage activists explained to another hostile passerby that his granddaughter or something was non-White. I don't recall exactly what he said, but it was something Rainbowish to that effect and it elicited a predictable response. Gosh, these people will never learn.
Anyway, we were not there to fight with the Confederate heritage crowd. We were totally focused on New Orleans antifas and so we left to go check out Lee Circle.
The Eve of Battle
When we got to Lee Circle, we ran into Anti-Communist Action. I really enjoyed meeting these guys. We had the same mindset. It was going to be a lot of fun to confront the enemy.
By the time we got back to Slidell, more people began to arrive. There was a mix of Southern Nationalists and White Nationalists at our hotel who had responded to David Duke's call to come to New Orleans. Everyone there was on the same page regarding the antifas and Confederate monuments regardless of what group they were affiliated with. The atmosphere there was very much like Auburn and Pikeville. No one there was punching right and we cracked jokes into the night about shooting filthy antifas and communist scum with soap from our slingshots.
By that point, we already knew this wasn't going to happen. The New Orleans Police Department had made it clear that we were going to be disarmed and couldn't bring weapons of any kind to defend ourselves from the mob. We ended up only bringing shields and helmets.
The First Hour
The first hour or so of the Battle of New Orleans was great.
The League of the South began arriving around 10:00 AM because the streets were reportedly going to be closed off for Based Stickman's event which was set to begin at 11:00 AM. Southern Nationalists, White Nationalists and Alt-Right people began to trickle in and banter around the Lee monument.
I recorded my first Periscope. Everyone was having a blast and this was only interrupted when the New Orleans Police Department bomb squad went in to check out the monument. Several of us left to go use the restroom and get some water. Then we returned and everyone gathered on our side of the monument where everything was cool until the arrival of the Cuck Knight and Bicycle Cuck.
The Cuck Knight and Bicycle Cuck Arrive
It happened so quickly.
I was standing around bantzing with someone when I noticed a commotion going on at the steps of the monument. The Cuck Knight arrived in Roman armor with an American flag cape. From my perspective, he began ranting about how he was half Jewish, had biracial children, how he voted for Trump, how we were destroying everything that happened at Berkeley and how we should unite under the American flag.
I don't think the whole exchange was captured on video. I've only seen parts of it floating around, but his body language was menacing and threatening the crowd. Everyone assumes that the Cuck Knight is antifa, a communist, an infiltrator, a paid agitator or some Jewish nutcase trying to be a hero. Initially, no one believes he is really what he says he is which is an Alt-Lite civic nationalist from California.
The Cuck Knight charges and knocks over the Confederate flags. He gets dropped and in the process two of our people (a Confederate monument defender and a League of the South member) are arrested. They go to jail while two of our other guys have to leave the event. Meanwhile, Bicycle Cuck remains and continues to taunt and menace the crowd. He says that he is a "Patriot" and everyone there is white trash. Initially, everyone also assumes that Bicycle Cuck is also antifa, a communist, an infiltrator or a paid agitator. There is a video of him swinging at an Alt-Right guy in a red t-shirt.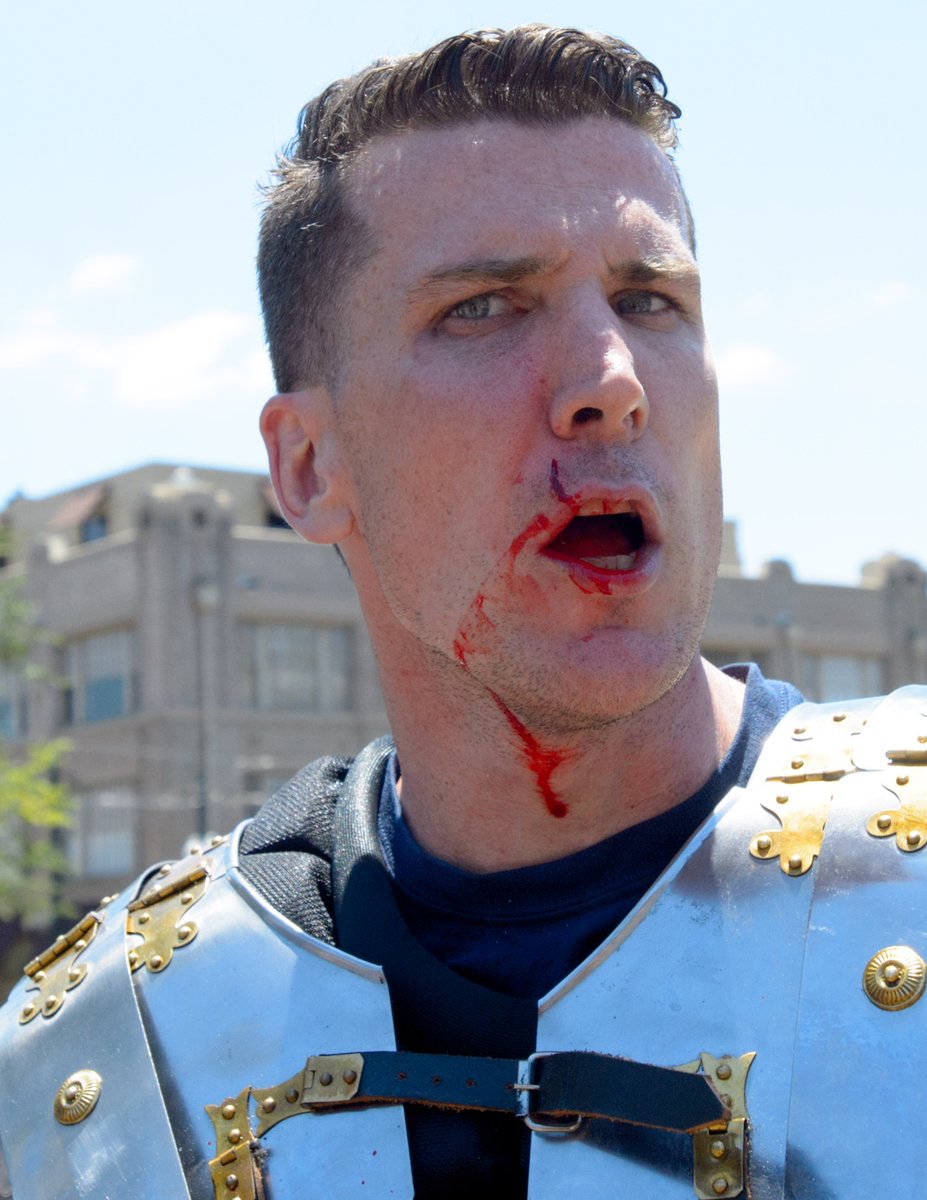 Baked Alaska Arrives
We're still shocked and very confused.
What the hell just happened? Who are these people? The confusion grows when Baked Alaska and Mike Tokes arrive shortly after the incident with the Cuck Knight and Bicycle Cuck. We notice that these two don't leave. If they were simply paid agitators looking for a photo op, why don't they leave?
From our perspective, the Cuck Knight goes across the street, cleans up, embraces some random black guy and comes back into the crowd. Bicycle Cuck never leaves. When he is interviewed by Baked Alaska, he explains that he is an American Patriot and all these other people are racists, white supremacists, hate groups, etc. He is very friendly to Baked Alaska, but remains extremely hostile throughout the event. We don't see him confront antifa or the mob that came from the French Quarter at any point during the event. In spite of what he says, all his hostility is directed toward us.
The realization begins to dawn on us that maybe these people really are "Patriots."
My Friend Arrives
Anyway, I am sitting here watching this unfold. I'm incensed that two of my friends are in jail. I get angrier when I see the Cuck Knight leave with his fellow Patriots to go to Jefferson Davis monument. From what I can see from my vantagepoint, he appears to know other people who are there.
While this is happening, my best friend from back home happens to be in New Orleans with his family. He is just there as a tourist and was unaware of the event. We meet up at Lee Circle and I briefly leave the event with him. At that point, I am already contemplating leaving. Why am I standing here with these people who are attacking us when I can be out having a good time with my best friend in New Orleans? Why not go find my other friend who had to leave earlier after the confrontation?
He's going to check out the WW2 History Museum. I walk with him to the parking lot. I have second thoughts though and decide to return to Lee Circle. After all, the antifas are supposed to be coming, all my other friends are there to confront of them and regardless of how angry I am with the Cuck Knight and Bicycle Cuck it doesn't make any sense to leave everyone else hanging in the wind over two individuals whose motives are still unclear.
So I decide to go back. There are three or four Oathkeepers in the parking lot. I'm highly confident one of them is Stewart Rhodes. I ask them if they are headed to Lee Circle and they say yes they are. As we are walking back, one of the Oathkeepers says to me "can you please move forward, sir." WTF?
I'm getting even angrier with these people. Curiosity aroused, I decide to hang around near them and listen in on their conversations. Hitherto, I've been talking to Alt-Right and Southern Nationalist people. I haven't engaged with the Patriot crowd.
The Crowd Arrives
After several hours, the Take Em Down NOLA crowd finally begins to arrive.
It has been six hours in the New Orleans sun. I'm sitting down on the steps of the monument. It is obvious that the main event is about to go down. The Cuck Knight approaches the League of the South and tries to start a 1-on-1 fight with whoever kicked him in the back of the head earlier.
A scuffle breaks out in the crowd when a black woman attempts to steal a Southern Nationalist flag from an Identity Dixie member. The police have left our side of Lee Circle wide open and hostile agitators begin to pour into our area where several heated confrontations ensue. We've been disarmed for hours by the New Orleans Police, but these people are pouring in and tellingly none of them are checked for weapons. For all we know, these people could be carrying guns, knives, rocks, bricks and they are occupying our area. Fortunately, nothing of the sort happened and the flag scuffle was the end of it.
There was nothing stopping the mob from pouring into our area and all hell breaking loose
The Patriot Betrayal
So here is the culmination of the Battle of New Orleans.
The Take Em Down NOLA crowd finally arrives hours late after marching in from the French Quarter. I'm sitting beside the Patriots from "American Warrior Revolution" and several of these other groups when they gather and start talking among themselves. Again, I don't know any of these people.
I'm sitting down when I hear one of them say, again, I am not sure who said it, but it was someone on the hill, but it was let the mob attack the "racists" and "hate groups" and if they come up the hill then we will defend ourselves. The "racists" and "hate groups" are just as bad as antifas. This isn't our fight.
WOW.
I immediately storm down the hill to inform the League of the South. I tell them what just happened and repeatedly urge our leaders to leave the event. By that point though, the League of the South, White Nationalists and the Alt-Right are engaged with the Take Em Down NOLA crowd. It is too late to leave because in doing so it will appear that the mob rather than the "Patriots" were the reason we left. This could have incited the mob to become more aggressive and launch an attack.
I'm beyond furious at this point. I storm out of the event, walk around by the World War 2 Museum and record a Periscope to let everyone know what is happening. I come back into the event where I confront one of the "American Warrior Revolution" people on a live Periscope. After some prodding, he goes on about how the people on the barricades on our side are "hate groups." I captured it on video and show how the "Patriots" have gathered in a group at the top of the hill while all our people faced off with the crowd. I wouldn't have been surprised if they had attacked us from the rear.
Leaving
As the Take Em Down NOLA crowd thins out, I go from furious to disgusted and leave for the last time. I'm just ready to go at this point. We all meet up later to discuss what happened. Everything is fine and by the end of the day it was crystal clear who was the real problem.
Aftermath
It is now Tuesday.
We've since learned that the Cuck Knight was real. He posted about his experience on the Proud Boys California Facebook page. What's even worse is that more videos have come out which confirm that the Cuck Knight and other "Patriots" from California were cucking up a storm with the New Black Panthers at the end of the event. By the end of the event, the "Patriots" were ready to side with Take Em Down NOLA and the New Black Panthers and against the Alt-Right, Southern Nationalists and White Nationalists.
Further pictures & video in the link above. At the end of the day, White Nationalists & Southern Nationalists held their own against overwhelming odds, as well as attacks from both left wing & right wing anti-whites.