Each & every week, Pegida Dresden holds protests against Islam & immigration. The latest drew well over 2,000 people.
'Traitor'! Protest Against German President As He Visits Saxony
German President Joachim Gauck was got a taste of popular feeling at the weekend after he went for a visit to Sebnitz, Eastern Germany.
Protestors — described as "Nazis" in German media — followed the German President around Sebnitz as he visited the town shouting slogans, accusing him of being a "traitor to the people" and "politically pathetic".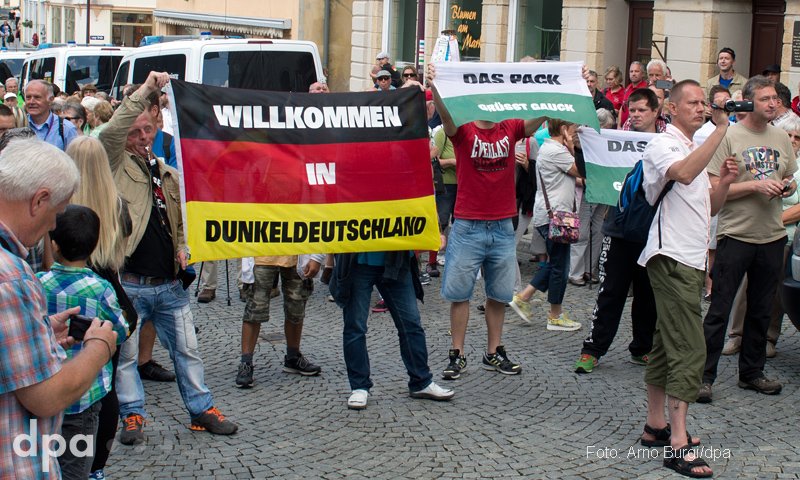 The demonstrators who were predominantly PEGIDA supporters blew whistles and shouted slogans to express their dissatisfaction with the President, and the government he stands for. Although not as prominent in the minds of PEGIDA supporters as Chancellor Angela Merkel, he has become a figurehead for the significant changes presently overtaking Germany in the wake of the migrant crisis and the disintegrating multicultural society.
In addition to calling the President a "traitor", the protesters called on him to "get out" of Saxony, blew whistles in chorus and threw sweets at the president, reports Sueddeutsche Zeitung. Traitorous German police responded to the president being pelted with candy by tear gassing the protesters, injuring two and arresting one.
Although the protest was not officially linked with the PEGIDA organisation itself, the official Facebook page of the Dresden movement — the capital of Saxony and the founding city of PEGIDA — called the demonstration a good example of "civic virtue" and an "inspiration".
This is not the first time the President and others have been harassed in Saxony, the most uncucked of German states. Gauck was similarly protested when he last visited the area in March, and Justice minister Maas complained of similar treatment, being run off by hostile locals. State prosecutors in Saxony were urged to investigate last year after at a PEGIDA protest a gallows was seen sporting signs on the nooses suggesting they were reserved for senior German politicians.
http://www.breitbart.com/london/2016/06/28/traitor-protest-against-german-president-as-he-visits-saxony/